Welcome
Who We Are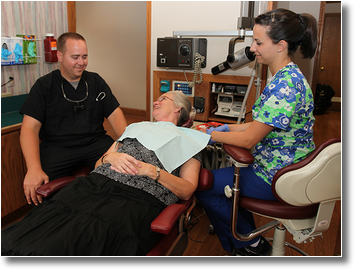 Thank you for considering Erwin Dental. We hope to meet and exceed your expectations for your dental care and look forward to meeting you and welcoming you to our practice.
We are passionate about helping people and treating them like family. Our excellent team of local dental professionals from the community know our patients by name, and our office is comfortable and cozy, like home, full of natural light and open space. Our environment is designed to make the experience of dentistry comfortable to diminish anxiety with gentle, thorough, and modern care.
We believe that dentistry is an art to treat disease. With attention to detail, we focus on complete and honest care. But we do not over treat our patients; instead, treatment is customized to meet our patients' expectations. We take the extra time to inform, answer questions, and give options. Patients need options and explanations that will lead to a treatment plan that matches their goals for their oral health.
Office Hours
Our office hours are 8 a.m. to 5 p.m. Monday through Thursday. The office is closed during lunch hour from Noon to 1 p.m.
First Appointment
To make your first appointment, contact our office during our regular office hours at 743-6144. Please visit our First Appointment page for prepare for your visit.