Download and Print Forms
To save time during your first visit to our office, we encourage you to download, print, and complete these medical forms at your convenience before you come.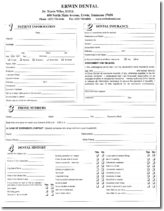 Our New Patient Form provides our office with information about the patient, dental insurance, contact details, dental and health histories, current medications, allergies, and a brief section to describe any dental wants and needs the patient might have. One form will need to be completed for each patient in a family. The form will need to be signed by the patient or, if the patient is under 18 years of age, be signed by a parent or guardian.
If you have questions about any information requested on a form, please contact our office at 743-6144. You will need to bring these forms with you to your first appointment, or you can FAX them to our office ahead of time at 743-6884.