Prophylaxis (Teeth Cleaning)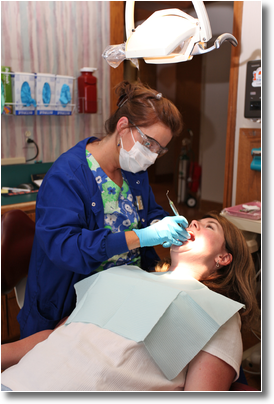 Dental prophylaxis is a specialized teeth cleaning treatment that is performed by a dental hygienist or dentist. During a prophylaxis treatment, the hygienist cleans the teeth and gums using specialized dental equipment, removing tartar and plaque that build up, both above and below the gum line. Removing this material on a routine basis helps prevent cavities, tooth decay, and periodontal disease (such as gingivitis and periodontitis).
Good dental hygiene requires preventative oral care that involves daily teeth brushing and flossing as well as regular prophylaxis treatments.
During a prophylaxis treatment, our hygienists also conduct a thorough and comprehensive clinical exam of your teeth and gums, assessing bone and tissue health, and screening for oral cancer.
Each time you visit Erwin Dental, you will see our dentist and discuss a treatment plan to provide you with the best dental and oral care.
For an online tutorial that includes instructions and a video, see Brushing Your Teeth at Mouth Healthy, sponsored by the American Dental Association.